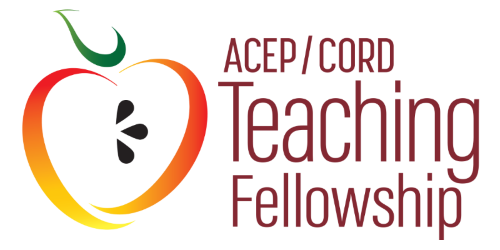 Purpose of Award
The scholarship provides tuition for the program ($1,615 value), an intensive course in faculty development. It will give you the skills and knowledge to become an effective and productive medical educator. Sessions are geared toward providing you with intensive exposure to the fundamentals of medical education. Sessions include topics such as e-learning, how to balance competing demands of an academic career, #FOAMEd and skills you need to be successful in your career.
Eligibility
This application is open only to current CORD member faculty representatives.
Residents may apply for a scholarship through EMRA.
Selection Criteria
Demonstration of teaching experience and commitment to education.
Award
Single scholarship covering the cost of tuition (approx. $1615)
NOTE: CORD pays for the cost of tuition. All other costs associated with attending the course (flight, hotel, meals, etc.) are not covered by this scholarship
Application Deadline
June 13, 2023 | 5:00 PM ET
Requirement
Attending the ACEP/CORD Teaching Fellowship which occurs over two 4 day sessions in New Orleans, LA, one in the fall and one in the spring.
Phase I - Class A | August 17-21, 2023
Phase I - Class B | August 18-22, 2023


Phase II - March/April 2024